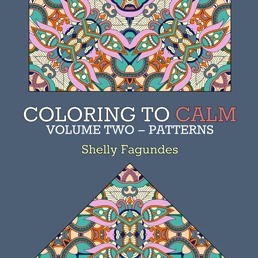 Just Released!
Publisher:

Flying Donkey Press

Available in:

Paperback and eBook
Buy the PRINT Book on Amazon
Buy the eBOOK on Amazon (It's Printable!)
As the name implies, this book is your portal to coloring yourself into a calm state of mind, while transporting you back to one of childhood's most popular and creative activities: Coloring!
All of the designs are original and will gently pull you into their intricate lines, shapes, and swirls, while allowing your mind to lose itself in the peaceful and tactile act of putting color onto paper.
Each of these patterns is printed on a single side of the page (the reverse side is blank) to prevent indentations and ink bleed. Included at the end of the book (for extra protection) are two blank pages for you to remove and place behind the mandala you're working on.
Coloring to Calm, Volume Two – Patterns provides hours of coloring fun and peaceful relaxation as well as an avenue to explore your creativity.
Grab your colored pencils, ink pens, or a medium of your choice, and get ready to fill the pages with your unique and colorful expressions.
HERE'S A SNEAK PEEK AT THE PATTERNS INSIDE